Setting the Pace
Pfizer employees are
setting the pace –
leading, building,
and delivering
health care solutions
to people
around the world.

---
[ABOUT THE COVER]

To Pfizer's Shareholders
For Pfizer and for our investors, 1997 was a banner year. For the last five years, on average, our revenue growth has doubled that of the pharmaceutical market worldwide. For the 48th consecutive year, our sales increased, and for the first time in our history, revenue topped $12.5 billion—up 11 percent over 1996. Excluding the impact of foreign exchange, Pfizer's 1997 revenues grew 14 percent. Net income rose by 15 percent to $2.2 billion, and diluted earnings per share increased 13 percent to $1.70.


In March 1997, Business Week ranked Pfizer among the 10 top-performing companies in the Standard & Poor's 500. In October, Fortune rated us among the world's most-admired corporations, and directors, analysts, and executives from our industry ranked Pfizer first among health care companies worldwide. As these standings indicate, our people, products, and policies are increasingly seen as pacesetters.


The strong performance of our four businesses produced outstanding financial results. Pharmaceutical revenues increased 13 percent (16 percent excluding the impact of foreign exchange), fueled by new product launches, as well as by the strong sales of the innovative drugs we introduced throughout the nineties. Animal Health sales grew by 9 percent, driven by the success of new and in-line products, including Dectomax, our highly effective antiparasitic for livestock, and Rimadyl, our innovative treatment for dogs with osteoarthritis. Consumer Health Care's sales rose 7 percent, fueled by higher sales for medical over-the-counter products, and sales of our Medical Technology Group (MTG) increased 1 percent as a result of the sales of our innovative stents, which grew 25 percent over 1996.


Our shareholders benefited substantially from Pfizer's outstanding financial performance. Our Company's market capitalization rose more than 80 percent to almost $100 billion during 1997, and for the 12th year in a row, both Moody's and Standard & Poor's awarded Pfizer their highest long-term credit rating. In January of 1997, we raised the first-quarter dividend to 17 cents (post-split)—a 13 percent increase. At the end of June, a two-for-one stock split took effect, the third such split since 1991, and in January of 1998, we announced a 19 cent first-quarter dividend. This 12 percent increase marked the 31st consecutive year of quarterly dividend increases for Pfizer shareholders.


Throughout 1997, our commitment to innovation continued to achieve excellent results. Our New Drug Application (NDA) for Trovan, which was the largest in our history and the largest regulatory filing ever received by the Anti-Infectives Division of the U. S. Food and Drug Administration (FDA), was approved in December 1997. The FDA approved this important drug for 14 different indications, the largest number ever included in an initial drug approval in the United States. We also submitted NDAs for Viagra, our new oral treatment for erectile dysfunction (ED), and for Zeldox, an innovative treatment for schizophrenia. In addition, we received approval for several supplemental indications for products already on the market, including Unasyn, Zithromax, and Zoloft.


In the first quarter of 1997—in partnership with Eisai Co., Ltd.—we launched Aricept, a well-tolerated, effective medicine for patients in the mild-to-moderate stages of Alzheimer's disease. Discovered and developed by Eisai, Aricept, in its first month on the market, became the leading U.S. treatment for this debilitating illness. Launched in 10 other countries through 1997, it has enjoyed considerable success in many markets.


The introduction of Lipitor, which we are copromoting with the Parke-Davis Research Division of Warner-Lambert Company, became one of the most successful launches in the history of our industry. Discovered and developed by Parke-Davis, this new medicine, which significantly reduces elevated levels of LDL cholesterol and triglycerides, quickly outdistanced other therapies in its category. By the fourth quarter of 1997, monthly new prescriptions for Lipitor exceeded those of any other lipid-lowering agent in the United States. This product has now been launched in more than 15 countries, and we expect to introduce both Aricept and Lipitor in more than a dozen additional markets in 1998.


This year, we are planning to introduce three innovative drugs. In February, we launched Trovan, a powerful, broad-spectrum antibiotic that was discovered and developed by Pfizer scientists. Before the end of the second quarter, we hope to introduce Viagra. Effective in up to 78 percent of patients in clinical trials, this highly effective treatment will offer a return to normalcy for the more than 100 million men worldwide suffering from ED. And, in the second half of 1998, we hope to launch Zeldox, our new oral antipsychotic drug, which combines proven, long-term efficacy with a simple dosage regimen and excellent general tolerability. Throughout 1997, the 10 drugs that we launched in the last decade continued to perform strongly, growing 18 percent and accounting for more than 83 percent of our total pharmaceutical revenues. Norvasc, our calcium channel blocker for hypertension and angina, became the world's largest-selling antihypertensive medicine and the best-selling product in Pfizer's history, with sales exceeding $2.2 billion.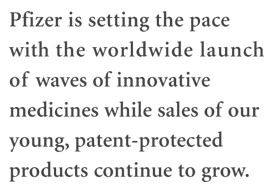 Sales of Zoloft, our novel antidepressant, reached $1.5 billion worldwide. Zithromax, with global sales of more than $820 million, became America's most-prescribed branded oral antibiotic. Diflucan, in its 10th year on the market, held the lead as the world's largest-selling prescription antifungal—with $881 million in global sales. Sales of Zyrtec grew 81 percent to $265 million, becoming the second-largest-selling prescription antihistamine in the United States less than two years after its launch.


Building on the strength of our in-line products, Pfizer is forging ahead with an ambitious R&D program, with more than 170 research projects in discovery and development—more than at any time in our history. In 1998, we expect to file for approval of two major new drugs: Tikosyn (dofetilide) to treat atrial fibrillation and eletriptan for the treatment of migraines. We also plan to file for supplemental indications for Norvasc and Zoloft. To fund a pipeline that is often considered the most innovative in our industry, we invested $1.93 billion in R&D in 1997, and this year, we anticipate investing more than $2 billion, one of the largest amounts of any health care company in the world.


To accommodate our unprecedented number of discovery and development projects, we have continued to expand our research facilities. In 1997, we finalized plans for expansions at Groton, Connecticut; Sandwich, England; and Nagoya, Japan, which will add more than one million square feet to our research space—increasing our current discovery research capacity by more than 50 percent.


Pfizer has also been setting the pace in sales and marketing, inaugurating two primary-care sales forces in the United States, the Powers Rx Field Force in February 1997 and the Alta Field Force in March 1998. All around the globe, our field forces have adopted a variety of innovative marketing strategies. In the United Kingdom, Sweden, Poland, and the Czech Republic, for example, we have pioneered creative alliances with patient groups.


In virtually every aspect of our business, we have unparalleled opportunities for growth. Our challenge is to strike the right balance between current growth and the investment necessary to sustain that growth. Fortunately, the strong performance of our products, the excellent commercial potential of those in development, and continuous improvements in every area of our operations should enable us to meet this challenge, producing a solid return on our investments both now and well into the twenty-first century.


In 1997, we further strengthened the Company's position through strategic restructuring and collaborations. In January of 1997, we combined the domestic and international branches of our pharmaceutical business into a single global organization—Pfizer Pharmaceuticals Group—enabling us to serve patients more effectively worldwide. We are also involved in more than 250 research collaborations with a variety of universities and other institutions and have made more than 130 licensing agreements with diverse organizations. In February of 1998, we signed an agreement with G. D. Searle, the pharmaceutical division of Monsanto Company, to codevelop and copromote Celebra (celecoxib), a compound with the potential to significantly improve the treatment of arthritis and pain.


But at Pfizer, innovative collaborations are not only the province of research, sales, and marketing. We have established strategic partnerships, alliances, and licensing agreements in every area of our business. In fact, for many companies worldwide, Pfizer has become the partner of choice.


There is no question that Pfizer's strengths in R&D, sales, and marketing have made our company an attractive partner to many other organizations, but I think Pfizer's greatest strength is our people and our values. At the end of March 1997, we held a Pfizer Vision/ Mission/Values Day to reaffirm our commitment to our eight core values: integrity, respect for people, innovation, performance, leadership, teamwork, customer focus, and community service. These are the values that have made Pfizer into the outstanding company it is today, and they are the values that will, I believe, help to make Pfizer the premier health care company in the world.


In February 1998, the Company's Board of Directors approved a plan to explore strategic options for the businesses in our Medical Technology Group. Although no decisions have been made, among the options that the Company will explore is the divestiture of all or part of these businesses in public or private transactions. MTG's businesses today face a highly dynamic marketplace characterized by rapid technological change and intensifying competition. In order for them to continue to succeed in such an environment, it is important that they have every opportunity to realize their full potential.


In closing, I would like to acknowledge with gratitude the outstanding service of Felix Rohatyn who, after 26 years on Pfizer's board, resigned at the end of July to become the United States Ambassador to France. I am also pleased to welcome Dana G. Mead, Ph.D., Chairman and CEO of Tenneco Inc., who joined Pfizer's board at the beginning of this year, as well as two other new members, both executive vice presidents of Pfizer Inc: Henry A. McKinnell, Ph.D., and John F. Niblack, Ph.D.





William C. Steere, Jr.
Chairman of the Board and Chief Executive Officer